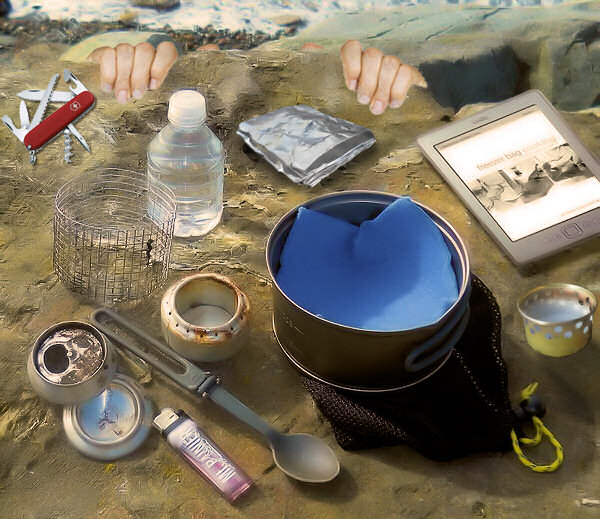 Hover mouse over items in photo to see where they link

The soda can stove is the he cheapest, lightest, most reliable stove you'll ever carry. I've used them during my thru-hikes of the Appalachian Trail, Florida Trail, Pacific Crest Trail and Camino de Santiago, so I know what I'm talking about. They've been with me when I summited 14,505-foot high Mount Whitney. They've been with me through the swamps of Florida at sea level. I've carried them through deserts and snow fields. They're dirt cheap, easy to make, and weigh less than an ounce—it's no wonder that more and more hikers use these stoves every year!
But it's sometimes difficult to find good information about the soda can stove. There's no money in it. Magazines like Backpacker won't show you how to make one—they make a lot of advertising dollars from companies that sell commercial stoves. Websites that sell stoves perpetuate rumors, myths, and lies about the soda can stove to scare you out of using them so they can sell you a stove they carry.
So I created this website to sing the joys of the soda can stove. They may not be the right choice for everyone—every stove has its limitations and that certainly includes the soda can stove—but here you'll find an honest assessment of their strengths and weaknesses from somebody that's actually used them over thousands of trail.
Happy trails!